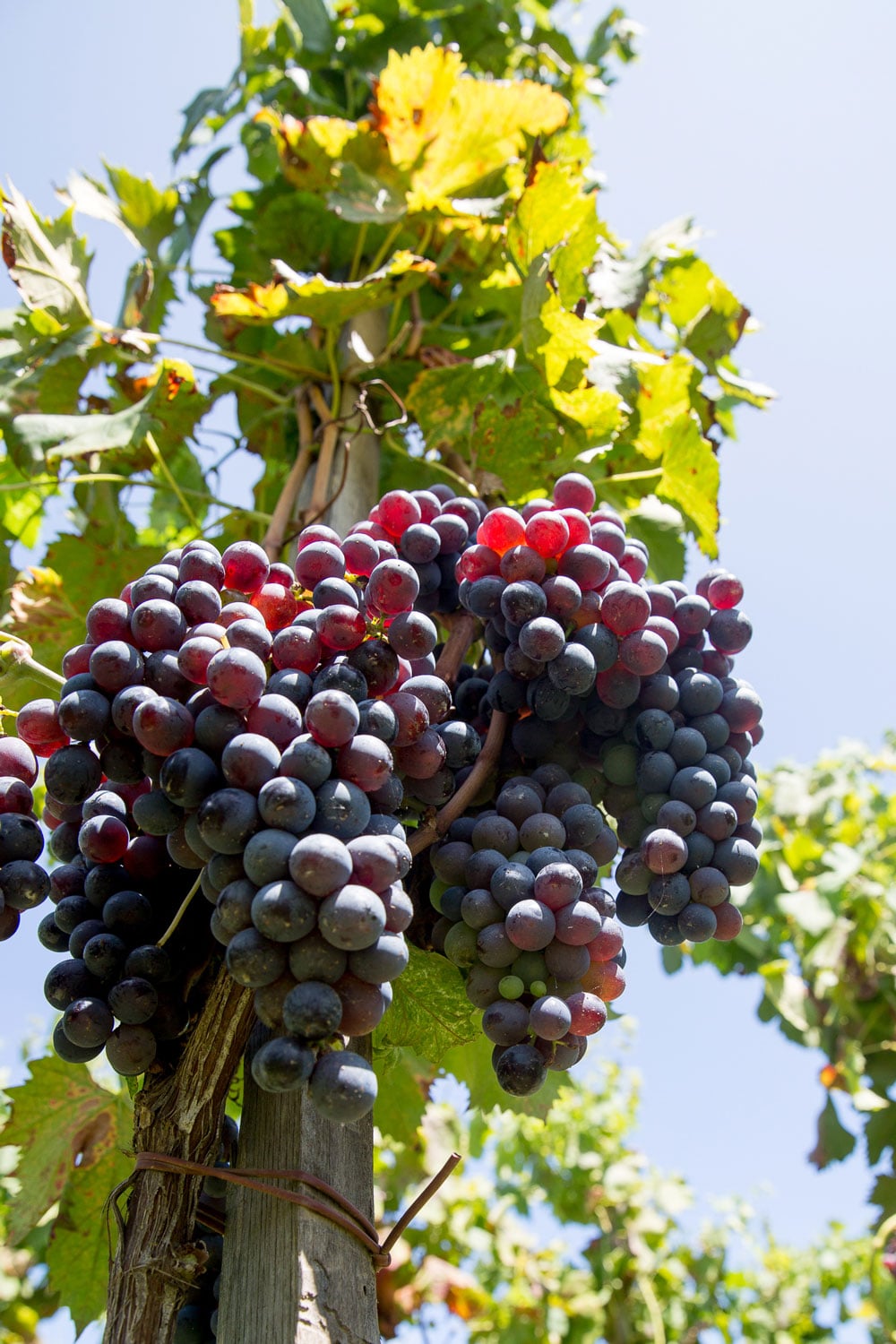 Nerello Mascalese
Mentioned for the first time in the eighteenth century, Nerello Mascalese is the most widely grown variety in the Etna zone. It takes its name from the plain of Mascali – a small commune on the eastern side of Etna – and, obviously, from the dark color (nero = black) of its berries. In the local dialect, it is referred to as Niureddu Mascalisi.
Some ampelographic studies have suggested a possible polyclonal origin for this variety, but it is more likely that in some old vineyards around Etna small quantities of other red varieties are present, which then contributed to tiny degree to the yield when the grapes were picked to be made into wine. According to an analysis of its DNA carried out by a group of Italian researchers in 2010, Nerello Mascalese may have originated from a crossing, which occurred quite naturally several centuries ago, between Sangiovese and Mantonico Bianco. A subsequent DNA study declared it to be related to Carricante, which shares its area of production. It is a particularly vigorous variety, which ripens late (often in the last ten days of October), and which is grown at altitudes which may surpass one thousand meters. Its vigor and the final quality of the grapes are particularly conditioned by the training system and the cultivation methods that are used, by the climatic conditions of the year as well as of the various cultivation zones (the sides of the volcano and their several districts). It is generally agreed that Mascalese finds its most congenial habitat on the north-facing slope of the Muntagna. The traditional training system for Nerello Mascalese, as for all the other varieties cultivated around Etna, is alberello(bush training), with plant densities of up to 9,000 vines per hectare, as in the case of our Cosentino vineyard, in the hamlet of Feudo di Mezzo, where the vines are planted 1.1 m x 1.1 m apart. Unfortunately, only a few producers choose this ancient training system when planting new vineyards. The Nerello Mascalese berries from vines that are alberello-trained usually weigh less than those from vines that are trained on trellises, and in these small grapes there is a greater concentration of extractive substances and, in fact, higher organoleptic quality. In its natural habitat on the northern slope of Etna, Mascalese produces bright red wines, which are vibrant in taste and perfumed on the nose, and as gratifying for the neophyte as for an expert, because of their combination of complexity and an easy-drinking style.
Nerello Mascalese, like few other varieties around the world, has an extraordinary capacity to extract and yield in the wine the tiniest nuances of its terroir, thus becoming a perfect instrument for revealing its qualities.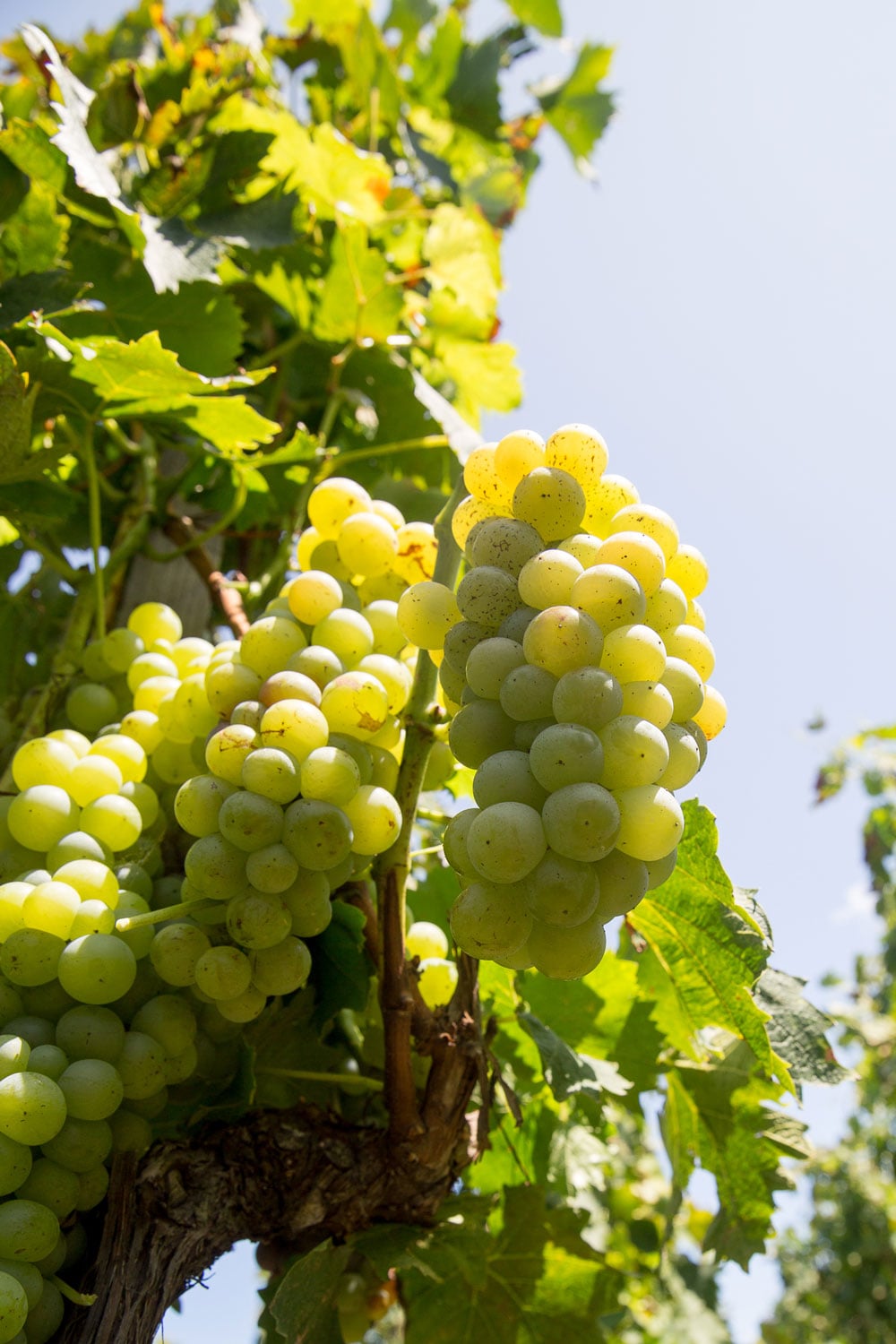 Carricante
The iconic white varietal in the tradition of Etna is undoubtedly Carricante, which owes its name to its proverbial ability to constantly yield a good quantity (carica) of grapes at harvest time. Known also as Carricanti or Catanese Bianco, it probably originated from the area of Viagrande, a commune that stretches from the south-eastern slope of Etna towards Catania, and therefore, apart from the high hillside climate, also benefited from the influence of the Ionian Sea.
Sicily has a wealth of other white grapes with good organoleptic qualities, but Carricante has characteristics that are absolutely unique in the panorama of Sicilian wines, and of Italian wines in general.
This is a variety with very low pH – often less than 3.0 – and that ripens late compared to other white grapes grown on the island, with harvest periods that vary between the last ten days of September and early October. As it also has notable acidity, Etna's producers of old used to attenuate this sensation by leaving the wine obtained from it on its lees until the beginning of spring and the consequent start of the malolactic fermentation. Otherwise, wooden barrels may be used during maturation to temper the harshness of the acidity.
Carricante is the fundamental variety for making Etna Bianco D.O.C. wines (with a proportion of at least 60%) and Etna Bianco Superiore (at least 80%). Never particularly alcoholic or overbearing, wines made from 100% Carricante are lively, with a fresh briny vein, and display fragrances that range from noble lees to citrus fruits such as oranges and grapefruit, and from aniseed to crusty bread, with possible honeyed notes after just a few years in the bottle.